According to Australia Post, 68% of consumers are more likely to buy a product after trying it. So if product trial has the greatest influence on purchase behaviour, why is there still no easy way to find and book Activation Spaces?
Brandcrush solves this. It's a simple booking platform that connects you with thousands of activation spaces so you can connect with consumers in the real world.
Everything from cafes and gyms, to yoga studios and child care centres. Any space with physical customer reach is a valuable distribution point for like minded brands. Simply target locations where your consumers hangout and get your brand into more hands.
In this digital world, consumers crave physical experiences. They want shareable interactions with brands that are genuine and highly personalised. Marketers, now more than ever, are turning to proven experiential and sampling strategies to engage with consumers, drive purchase, and deliver on ROI.
But traditional activations aren't easy; some public locations are expensive, have long lead times and have a high level product of wastage. Take a sports drink for example, traditionally they could hand out 15,000 samples to the general public at a train station. Yet these same 15,000 samples could now be distributed through a volume of localised gyms.
Brandcrush is here to make those real-life connections between brands and people easier and more effective. We're cutting through the clutter and giving marketers an easy to use platform to find and book spaces to activate their brand and connect with their audience.
Brands can reach highly targeted consumers and execute national campaigns with ease. For example, if you're an organic chocolate brand wanting to reach consumers in the right context, you can book a volume of premium cafes to activate for you. Each cafe makes approximately 150 coffees per day and they can easily include a sample or brand message with every cup. Book 50 cafes and you're reaching over 50,000 consumers per week.
Brandcrush has spaces for all types of activations, whether it's sampling, experiential or pop ups. Brands simply decide if they want to activate themselves, or allow our vetted Activation Hosts to do it for them.
Our system provides all of the logistics information in an easy format and any additional shipping costs are more than offset by the reduction in product wastage. Plus, now the brand is now being distributed by an individual with real world influence (in this case a personal trainer).
This is highly targeted, data driven product trial and it goes one step further to closing the path to purchase.
Brand managers can target spaces by category and can drill down using geographic and demographic filters. Activate at scale by allowing hosts to execute for you, or bring in your team to reach consumers in highly targeted and engaged locations.
It's frictionless and effective marketing.
There are no sign up fees. Brands can discover hundreds of spaces to connect with their target audience in the real world by collaborating with trusted businesses.
Like Airbnb, Brandcrush is a community driven marketplace solution that is true win-win. Marketers have a simple solution to find and book spaces with physical reach and businesses (Activation Hosts) get a new revenue stream and a value add for their customers.
This complements digital marketing in the physical world. Where brands get a trusted referral from an Activation Host that consumers are likely to know & trust. Brands can spend as much or as little as they like by booking a single space or building an entire campaign.
Let's unpack the top three benefits.
You can choose spaces that align perfectly with your brand through

Hyper targeting. For example, marketers can go deeper than simply targeting health & wellness enthusiasts, they can narrow down to consumer interests. You can now reach Yogis over Cross fitters. You're reaching a smaller audience, but a highly targeted group across multiple and scalable locations, as opposed to a mass audience in one location.
Zero Product Wastage.

Mass sampling of a product that doesn't have mass appeal will result in high product wastage. If you put your product in an intimate setting, you'll cut your wastage completely and also reduce staffing costs.

Intimate product experiences. Your consumers are being inundated with brand message everyday. Even at organised festivals, it's becoming harder to cut through the clutter and grab consumer attention. With

Brandcrush you can select spaces that offer 100% share of voice in a real life and highly relevant environment. For example with our 'Gift with Purchase' positions

you have the exclusive attention within the activation space to get product in people's hands.
Need some inspo? Here are some thought starters from the most popular activation spaces in each category on Brandcrush. Click through to view the space listing and learn how many targeted people you can reach. All of these space offer brands the ability to scale their campaign across multiple locations.
Beauty Products
Book fashion retailers to distribute your products as a gift with purchase.
Personal Care
Book cafes, gyms and yoga studios to place your products in their bathrooms.
Medical & Pharmacy
Book certified physiotherapists, chiropractors & podiatrists to distribute your samples with every appointment.
Teens, Children & Family
Book daycare centres to include your product in the 'take home' bag for Mum.
Food & Drink
Have our cafes incorporate your brand 'on the menu' or distribute brand messages with every coffee sold.
Pet Care
Book grooming salons and vets to reach highly engaged pet owners.
Events and Venue Hire & Goody Bags
Just need some space for your team or want to tap into an existing event? Use our search functionality to choose PR events, Industry events or consumer events.
We're here to help and work closely with brands and agencies. We can create a suggested campaign for FREE. Simply sign up and provide us with dates, budget and target audience and we can create a campaign that is tailored to your brand. Here is a sneak peak at our campaign functionality. This example can be booked in minutes and would get your product or brand message into the hands of 16,090 people via 51 functional fitness locations across all major cities.
So if booking the space is sorted and staffing can be scaled, what about the reporting and feedback? No problem! Any time an Activation Hosts executes for a brand, your payment is held securely until an Activation Report is submitted. Our hosts capture immediate feedback, intent to purchase and photos of the activation in action.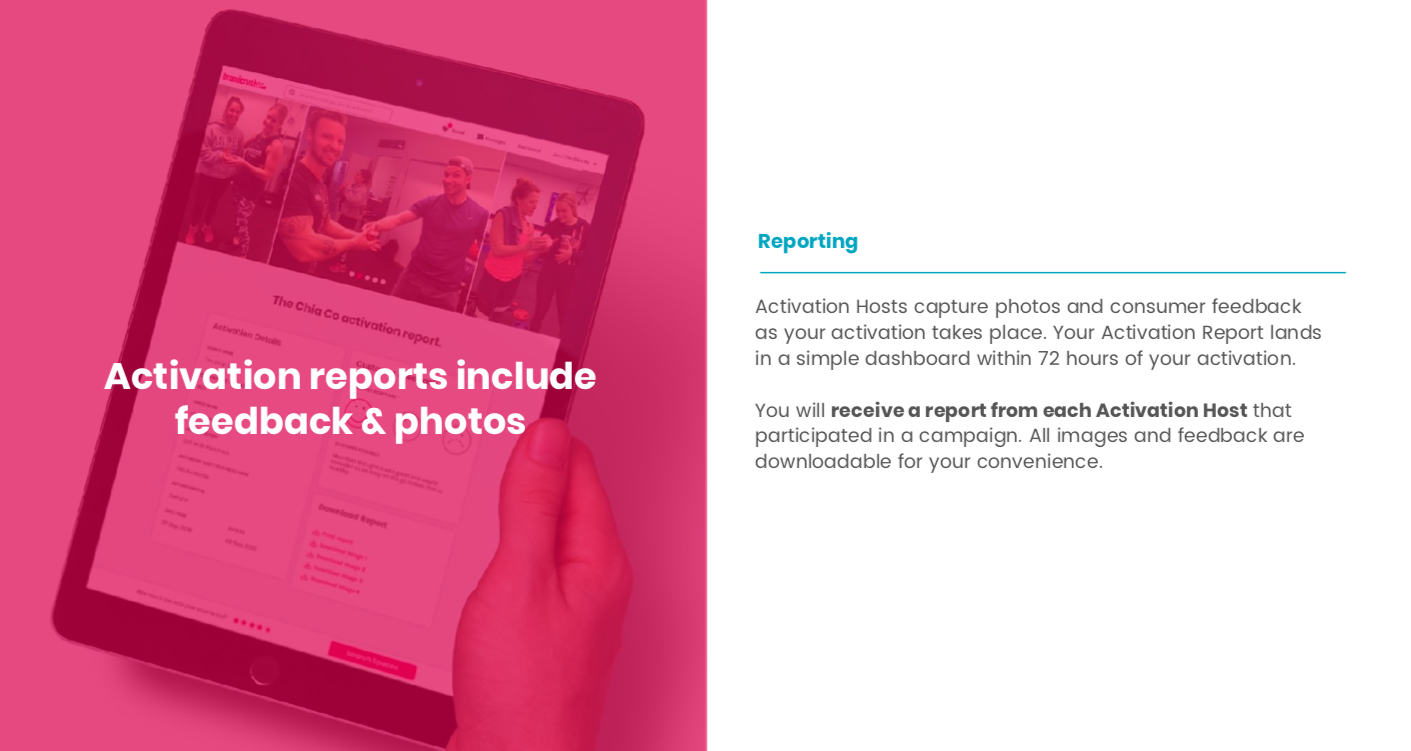 Just doing your homework? Feel free to download a summary on Brandcrush which is perfect for Agencies and savvy Brand Managers.
Written by Matt Hurle.