You've pinpointed the types of spaces you want to target for your brand's activation, but in order to make sure the product hits the consumers hands at an optimal time you need to get specific and choose what Space Position you want.
Space Position tells a brand where your brand can activate in the Activation Host's space. When choosing a space position, make sure it's a space where the consumer will enjoy the product and take the time to learn more about the product. Here's a rundown of the most popular spaces.
Gift with purchase
The Activation Host actively hands out the product or sample with every transaction, so the reach is guaranteed. The sample or brand message is positioned as a gift for the consumer to enjoy, and comes with the endorsement of the Activation Host.
Depending on the business, these samples might be distributed from a box behind the counter or in some other way that integrates into the business operations.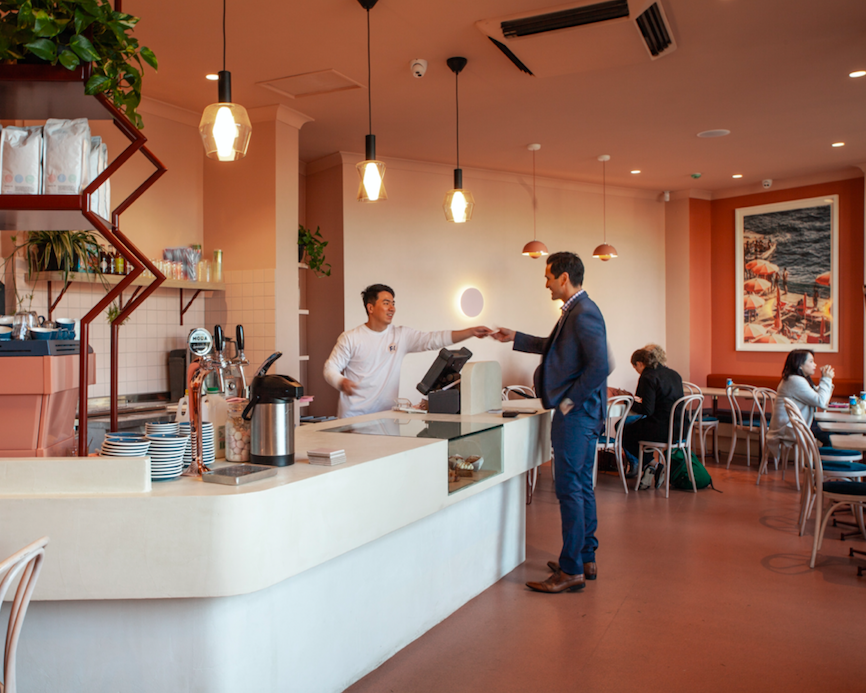 If you gave a sample of peanuts to a consumer while they were at a Barber shop, you would ask the Activation Host to gift the sample while they were in the chair and when they're offered a beverage. This is where you have their exclusive attention and they're most likely to learn more about the product.
When you submit your activation request, you can ask the Hosts to display the product in a certain way. You can also upload photos to show them examples of past displays or of displays you love, via the activation request.
This is active sampling and will generally cost more than the passive sampling positions. These types of space positions are generally $0.40-$1.50 per sample, depending on how targeted the audience is and how many other brands are trying to book a particular space. Each space has their daily reach displayed on their listing however you can create a campaign to suit your budget by adjusting the number of days you'd like to activate. This method allows the brand to scale their campaign, without the staffing headache and costs.
Counter Top
The Activation Hosts displays products or samples on the counter in an agreed location as per the 'space description' described in the listing. The space at The Bucket List in Bondi is a great example of this.
Counter Top space position is generally $0.10 - $0.40 per sample and a great way to support a campaign and to gain an in store presence.
This is a passive activation that allows your brand to be seen and picked up by interested consumers on a self-serve basis. Let's your packaging do the talking and gain credibility in the real world.

Bathroom
Similar to countertop, this is a passive activation where interested customers can help themselves to a sample in the Host's bathroom space.
This is a great option for Beauty and Personal Care products and gives exclusive focus of the customer in gym change rooms or bars & cafes.
Product Demo
This is a great option if your product requires a bit more of an explanation or you want to get a story across. All of the briefing documents can be uploaded as you submit your request (product info, features and benefits & any tone of voice information).
In this instance the Activation Host provides a dedicated staff member to actively promote and sample your product or brand message. They will learn your features and benefits, tone of voice or stockist information and can set up dedicated booth or display at the foyer or entry point of the location.
For example a staff member of a Barre studio could mix a smoothie with the brand's protein powder for customers after their class. The staff member would explain the key messages and discuss the flavours with the customers as it's served.
This is an active activation, and are generally $2 per sample and the reach number is generally 30% below the total daily traffic of each Activation Host.
Floor Space
Perfect for brands who are looking to step into a blank floor space in high foot traffic areas. Brands provide their own staff to activate in the space provided so this is a passive activation for hosts. For example any brand wanting to target university students for their back to school campaign could activate a Floor Space with Melbourne Polytechnic.
These positions typically charge between $0.20 to - $0.40 per sample and these positions are charged and booked on an hourly basis.
In this instance the activation host doesn't need to submit an activation report, so make sure you get your own photos of the activation!
There are loads more options, other spaces include goody bag, sponsorship, on the menu, booth, fridge, online box, street, venue hire and shelving rack. Use your imagination and find the sweet spot for your product.
Got some ideas? Get in touch to discuss what may work for your product, or start discovering spaces!